Panther Valley Ecumenical Church
Make a Joyful Noise!
We are called upon to "Make a Joyful Noise," according to the scriptures. If you enjoy music, there are two ways you can express yourself by either joining the choir and having the experience of making music with those of us who get to sit upstairs in the balcony and learn to sing beautiful choral pieces by gifted composers. Or, learn how to "Make a Joyful Noise," with the use of bells! Music is another form of prayer. Come rehearse with us on Sunday morning on the balcony, at 9:30 AM and see if you like it! Or, on September 27th, a Thursday evening, the Bell Choir will begin their weekly rehearsals at 7 PM in the Bell Choir Room which is in the wing of Sunday School rooms and you don't have to sing to "ring them bells!" You don't even have to read music! But you will learn a fun way to express joy.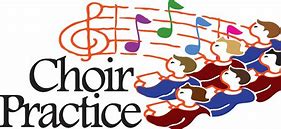 We Need Choir Members our Weekly Rehearsals will begin on Sept 9, and will start 1 hour prior to Sunday Morning Service up in the Panther Valley Ecumenical Church Sanctuary Choir Loft. If you enjoy Music give choir a try. Please Come Join Us!
*Bell Choir rehearsals will be starting Thursday Sept 27 at 7 pm in the Bell Choir Room at Panther Valley Ecumenical Church. You do not need to read Music or Sing to be part of the Bell Group! We need people who enjoy sharing their talents and God's Word through Music. So Help Ring in our New Year at PVEC!