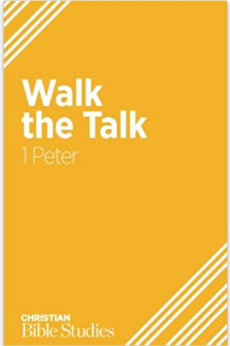 1 Peter, Walk the Talk
7-week Bible Study
What does it look like to follow God — even when life gets difficult? This Bible study explores the Book of 1 Peter, tackling foundational questions of the Christian life and faith. As we take in the apostle Peter's words to the early believers, we learn:
– How we can begin to think differently — which will radically affect our behavior.
– How to be obedient to God and develop an "appetite for being good."
– How to create a radical change in our relationships.
– How to prepare for suffering that inevitably comes to everyone, trusting a loving God who has promised to care for us.
This seven-week Bible study will begin on January 7, 2019 and end on February 25. We will not have Bible Study on January 14 – there will be a Council meeting that night.
Wednesday Morning Bible Study
Beginning September 12th at 10:00am in the conference room.
Join us as we explore Grace with Max Lucado.
"We talk as though we understand the term. The bank gives us a grace period. The seedy politician falls from grace. Musicians speak of a grace note. We describe an actress as gracious, a dancer as graceful. We use the word for hospitals, baby girls, kings, and premeal prayers. We talk as though we know what grace means."
Lucado's bestselling book reminds readers that there's more to grace than we've ever imagined. In this cornerstone message of Lucado's ministry, he challenges readers to not only receive grace but also to be changed by grace. Shaped by grace. Strengthened by grace. Emboldened by grace. Softened by grace. Snatched by the nape of their neck and shaken to their senses by grace.