Wednesday Faith Formation Class
Fear is an emotion that profoundly shapes us.
We all have seasons when fear and anxiety overwhelm us.
Fear can imprison us, paralyze us, and keep us from experiencing a fulfilling and joyful life.
Join us on Wednesday mornings at 10am to hear from experts that can help us overcome our fears. We will also consider scriptural passages about fear and spiritual practices that can bring real peace. Through this study we will lean into and press through fear in order to live a life of courage and hope.
May 27th – Understanding and Countering Fear
June 3rd – Crime, Race, Terrorism, and Politics
June 10th – Failure, Disappointing Others, Insignificance, and Loneliness
June 17th – Apocalypse, Change, Missing Out, and Finances
June 24th – Aging, Illness, Dying, and Fear of the Lord
All our Wednesday faith formation gatherings take place on Zoom. ID 218 756 303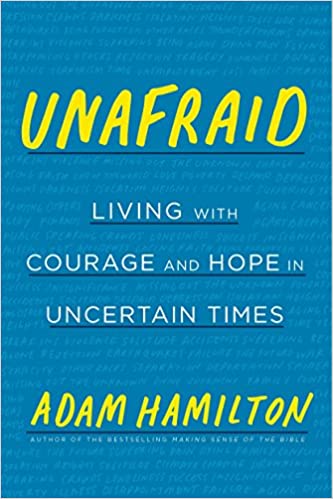 The stories of the men and women in Scripture were different, but the theme was the same: they were People of the Promise. Because of God's promises, Noah built an ark on dry land, Joshua claimed the Promised Land, David became king, Peter preached the first sermon, and John caught a glimpse of the future. Like them, we can also build our lives on God's promises, and trust him to keep them.

This is a twelve-week video Bible study.

We will begin on Monday night, April 27, at 7:00 PM, via zoom and continue each week through June 1 with the following sessions:
1. Your Are Stamped with God's Image
2. God Will Win the Victory
3. Your Are an Heir of God
4. Your Prayers Have Power
5. God Gives Grace to the Humble
6. God Gets You


We will then take a 1-week break. We will resume on June 15 and finish on July 20 with:
7. Jesus is Praying for You
8. Death Has Been Defeated
9. Joy is Coming Soon
10. You Will Have Power
11. There is No Condemnation in Christ
12. Justice Will Prevail

Meeting ID # on zoom is 639-260-572. Please let me know if you plan to be part of this Bible study so that I can send your email an invitation on the 27th.

The book can be purchased on Amazon. The participants' guide on Kindle is $5.99 or paperback on prime for $9.49.

Any questions see or contact Terrie Newbold 908-892-6474 or tlnewbold47@gmail.com