Click below for more information: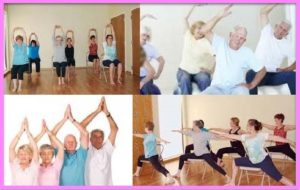 Yoga seeks to unify the mind and body and promote mindfulness through physical postures (asana), breathe work (pranayama) and meditation. Yoga has been shown to offer patients many benefits for wellness and in disease management, including*:
Improved sleep
Increased strength, posture, physical balance and flexibility
Reduction of fatigue, stress and anxiety
Heightened ability to focus or concentrate
In our yoga classes, we will utilize gentle movement sitting, in or supported by, a chair, slow and deep breathing, and moments of meditation or stillness to help students relax, regain physical strength and flexibility and feel centered and balanced.
For more information, please e-mail info@stillpointyoga.net.
Kate McGuinness is a certified Yoga Alliance RYT-200 teacher and owner of StillPoint Yoga Studio in Blairstown, NJ. She has her FMS Level 1 Certification and is qualified in TRX Group Suspension Training. Kate's passion is helping to foster a mind-body connection and exploring and improving the functional movement patterns of the body for all ages to ensure healthy, pain-free movement. She employs yoga, FMS, and TRX in her work with all bodies – broken bodies, seniors, youth athletes, weekend warriors and highly conditioned athletes – to build body awareness and mindfulness, create sthira (stability) and sukham (ease), strengthen the physical body, and to ensure safe and functional movement at any level. Kate's vision of movement can be summed up with two quotes: "Do your practice and all is coming." – Sri Krishna Pattabhi Jois "First move well, then move often." – Gray Cook *There have been multiple studies of the benefits of yoga for both cancer patients undergoing treatment and those post treatment. Two recent studies include breast cancer patients (Journal of Oncology, "Yoga's Impact on Inflammation, Mood, and Fatigue in Breast Cancer Survivors: A Randomized Controlled Trial," January 27, 2014) and prostate cancer patients (Penn Medicine, "Yoga Helps Maintain Quality of Life, May Lessen Side Effects in Men Undergoing Prostate Cancer Treatment," November 2015).