Panther Valley Ecumenical Church
Bible Study
Wednesday Mornings at 10:00am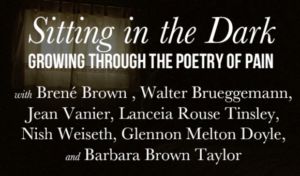 August 21st through October 2nd
Sitting in the Dark: Growing through the Poetry of Pain
Introduction
As children, we can ask for a nightlight to chase away the shadows that come alive in the dark, and keep the creature under the bed away. As adults, when darkness creeps over us in the form of pain, depression, grief, and fear, there is no nightlight. At times the only way that we might be comforted is by using or surrounding ourselves with people and things that numb and distract us from pain. However, some coping strategies can lead to more problems and more suffering. Conversely, there are times that if we wait in the darkness long enough, we might discover something about ourselves, God and our world. In other words, staying in the darkness can be a transformative time, a time of growth and conquering.
In this series of films we learn about the difficulties in our lives that lead to transformation and healing. Authors, philosophers, theologians, and scholars will share with us the possibility of existence both in times of darkness and light. They share their own experiences of depression and doubt, pain and difficulties, so we might know that we are not alone in the dark. Whatever our experience of pain may be, the hope is that we might come to see a side of that is life affirming. These times of difficulty are important times. May we take the opportunity to live in them well.
There are eight sessions in this series
SESSION ONE: Sitting as Brokenness with Glennon Doyle
SESSION TWO: Sitting as Weeping with Brene Brown
SESSION THREE: Sitting as Getting into It with Parker Palmer
SESSION FOUR: Sitting as Enlarging Life with Jean Vanier
SESSION FIVE: Sitting as Feeling Pain with Barbara Brown Taylor
SESSION SIX: Sitting as Discipleship with Walter Bruggemann
SESSION SEVEN: Sitting as Creating Life with Lancia Rouse TInsley
SESSION EIGHT: Sitting as Bringing the Light with Nish Weiseth
Panther Valley Ecumenical Church
Bible Study
Monday Evenings at 7:00pm
"The Miracles of Jesus"
by Matt Williams
From turning water to wine, the feeding of the five thousand, and to the healing of the ten lepers, explore the depth and riches of the miracles of Jesus in this 6-session DVD Bible study! Explore the cultural contexts of each miracle, learn what it means to us today, and understand how they reveal the Kingdom of God.

Discover Fascinating Facts About the Miracles of Jesus
Learn fascinating facts as you get a solid overview of the miracles of Jesus. Enjoy important background information, cultural context, key Scripture, and incredible insights that will help you establish a strong understanding of the wonders and nature of God.
•Jesus used his miracles not only to demonstrate God's power, but the Kingdom of Heaven on earth as well as God's character. •One third of the Gospel of Mark is dedicated solely to the miracles of Jesus. •The illustration of a banquet in Jewish culture is symbolic for the coming Kingdom of God (wedding banquet at Cana). •The cursing of the fig tree was the only time Jesus used his power to destroy something. This miracle is part of the story of Jesus' turning the tables in the Temple. •and much more!
This six-session series will discuss:
1.The Clean Daughter
2.The Heartbeat of God
3.Knowing the King
4.A Faith-full Outsider
5.Fruitless Lives
6.Grateful Outcasts
This Bible Study will commence on Monday August 19 and run through October 7. We will not meet on September 2 (Labor Day)or Sept.9 (Council meeting). The is available from Amazon Prime for $7.40 (including tax). Any questions see or contact Terrie Newbold 908-892-6474 or tlnewbold47@gmail.com.